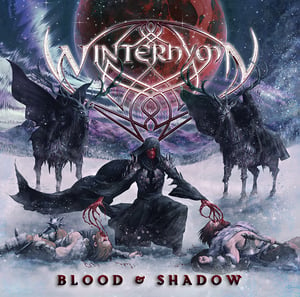 $

12.00
It's here, folks! Our sophomore album "Blood and Shadow" is available now on SoundAge Productions/Soyuz Music (Arkona, Leshak, Kalevala, Pagan Reign).
Tracklisting:
1. Blood of the Moon
2. Dream of Might
3. Blood Burner
4. Legacy in Flames
5. The Summoning
6. Seafarer
7. Silenced by the Northern Winds
8. In Shadow We Ride
9. Huntsman
10. The Wolf's Head
11. Into the Depths
12. The Chosen End
Fans who own our Paganfest V Sampler we did for the tour in 2014 will recognize a couple of those tracks, which we re-recorded for this full-length album.
"Blood and Shadow" is a three-panel ecowallet with art by Vasilis Zikos and cover inlay design by our own Exura of JWDesign LLC.
We ship anywhere in the world, however our European/Asian fans might find it quicker to order directly from our label and save a bit on shipping. Link here: http://soundage.org/shop/goods.php?id=6876